Private Vimeo link | Password on demand
SAFE PIECE
experimental documentary / dance film. Video (2019) 26 min. / Language no problem.
A film by Isabelle Vigier and Valentina Campora, based on a dance piece by Valentina Campora, with music by Andy Moor and the participation of Elio Campora Moor.
Safe Piece originated in choreographer Valentina Campora's personal experience of trying to combine her artistic work with being a mother. Having to care for a baby and at the same time trying to continue creating new work posed a personal challenge. As an experiment, she began exploring the possibilities of dancing with her baby. In the course of four years Campora has created eight performances, all of them including herself, her young son and his father, Campora's partner Andy Moor, a musician himself, playing for a small audience. Each performance was filmed by visual artist Isabelle Vigier. Vigier used the video material to create the fim 'Safe Piece', and later the installation of the same name.
In the film we see how displacing a family from the home onto the stage allows for the emergence of new alleys of communication and play. Multi-faceted, evolving relationships occur between parents and child within the realm of music and dance. The film proposes an image of the passing of time as a positive, profoundly generative force: seeing a little boy growing up provides both a pace and an emotional frame to the film. The concepts of potential, loss, and realization are embedded in it.
Safe Piece publicly addresses private questions which are deeply relevant because they deal with fundamentals: the right to work, and the right to raise the future members of our society – in a social space where having children is often experienced as a limitation in terms of professional development. Safe Piece is an investigation into passion for making art and making a family.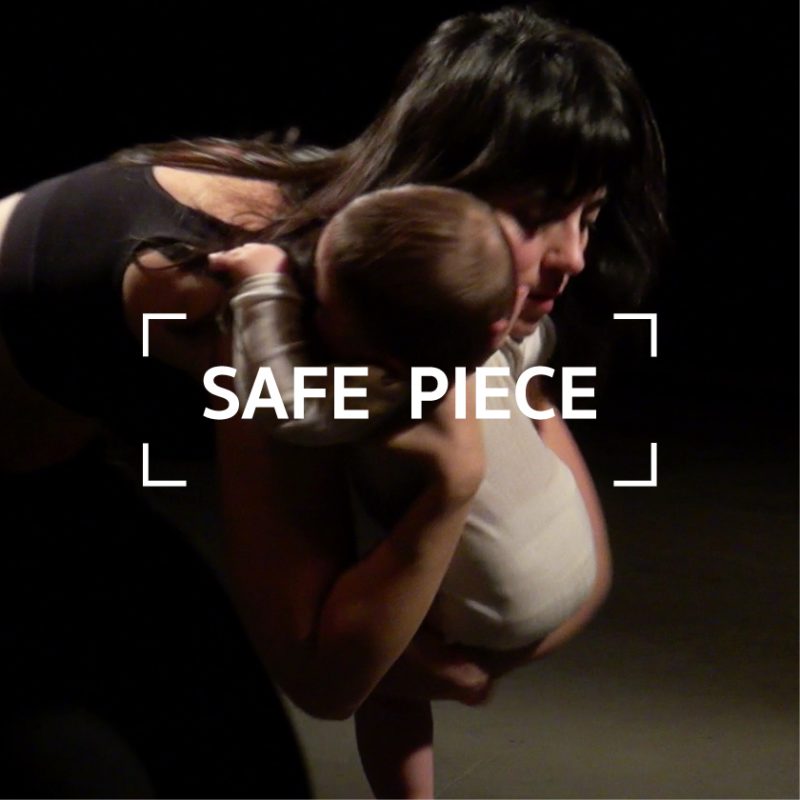 THE MAKERS
Valentina Campora, an Italian performer and choreographer based in Amsterdam, NL, initiated the project and formed the team around it. She formulated the original concept and produced the live performances. She has developed the concept in close collaboration with Isabelle Vigier — culminating in the film and the installation of the same name.
Andy Moor (The Ex) is a well known musician improviser and composer of film music. He has worked in various projects with Campora as a live musician, composer, and often an advisor (for example 'Clessidra, One to One', 'Identicality' and in 'A Divine Threesome' by Gabriella Maiorino). Moor is Campora's partner, and the father of their son. He is also responsible for the soundtrack of the installation version of 'Safe Piece'.
Elio Chaly Campora Moor is Valentina Campora and Andy Moor's child. He was seven month old at the beginning of the project.
Isabelle Vigier is the author of the film (2019) and the installation (2020), in close dialogue with Campora and Moor. Vigier and Moor have worked together on many projects in the past, including the live performance 'Le Journaliste', but also through the music label Unsounds, of which they are co-founders. Vigier and Campora started their collaboration with Safe Piece and have gone on to work on more projects together.
FILM CREDITS
a film by Isabelle Vigier and Valentina Campora
Réalisation: Isabelle Vigier
Based on the performance 'Safe Piece' by Valentina Campora
Performers: Valentina Campora and Andy Moor with Elio Campora Moor
Music: Andy Moor
Cameras: Isabelle Vigier, Hanneke Kuijpers
Editing: Isabelle Vigier
Color calibration: Sergio Gridelli
Sound mastering: Andy Moor
Additional music: Temusewo Mukasa Uganda Harp 'Okwagala omulungi kwesengereza'
Filmed on location in Amsterdam (NL): OT301, Leine&Roebana Studio, Zaal 100, De Balie, Plantage Dok, De Roode Biooscop and at Le Theatre de St. Nazaire (FR)
Production: Valentina Campora
Made with support by AFK Amsterdam Funds for the Arts, Theatre De Roode Biooscop and cultural center OT301, Amsterdam
SHORT BIOGRAPHIES
VALENTINA CAMPORA / performance
Valentina Campora(IT) graduated at the Modern Dance Department of the Theaterschool of Amsterdam and at D.A.M.S. at the University of Litterature and Philosophy of Genova. An active participant in the Amsterdam music and dance scene as an independent maker she has also danced and collaborated with Jakop Ahlbom (NL), Erik Kaiel (NL), Cristina Planas Leitao (PT), Heather Ware (NL), Bani Koshnoudi (IR/US) and Andy Moor (UK/NL) o.a. Between 2008 to 2014 she worked with choreographer Gabriella Maiorino (IT/NL). She has been involved in research projects at Danslab, Den Haag (NL), and abroad, (Portugal, Italy). Since 2007 she has participated in 'Wonderland', a renown improvised music and dance group for children (0/+) initiated by Makiko Ito (J/NL). As a dance teacher she is a regular guest at Dance Company De Stilte, Breda (NL), De Theaterschool, Amsterdam (NL), Fontys Academy, Tilburg and HJS Foundation, Amsterdam (NL). Throughout her studies and professional career she has always combined her interest and experience in the visual arts, philosophy and dance.
ISABELLE VIGIER / video
French artist and graphic designer, she established herself in the Netherlands in the mid 90's, and has been active ever since as an independent maker. She is currently based in Brussels, Belgium. For the last 20 years she has been creating visual works for various stages, in the Netherlands and abroad. The long and fruitful artistic relationship with the maverick Magpie Music Dance Company starting in the late 1990's was the beginning of her close collaborative work with the avant-garde of both contemporary dance and music. Three of her long time partners with whom she has worked regularly are the dance company ICK / Emio Greco|PC, (Amsterdam/Marseille) (Dante's Trilogy, Addio Alla Fine), composer Yannis Kyriakides (Horizon, Scape, QFO, Varosha a.o) and composer/performer Anne La Berge (as a designer : Shackle, Volsap, as artist: Threads, Utter). Her media of predilection include video, photography and image making in a broad sense, in particular through the re-contextualizing of found footage and images. As a designer Vigier creates graphic works for and around the performing and visual arts. She is co-founder and artistic director of the music imprint Unsounds, a notable platform for new contemporary, experimental and improvised music, with Andy Moor and Yannis Kyriakides.
www.isabellevigier.com / www.unsounds.com
ANDY MOOR / music, performance
Next to being a well known guitarist of bands such as Dog Faced Hermans and the Ex, Andy Moor has collaborated with many musicians from varied backgrounds and disciplines over the years. Many of these collaborations are duos, with amongst others Cypriot composer Yannis Kyriakides, French sound poet Anne-James Chaton, Brooklyn-based DJ, producer and writer DJ /rupture to name a few. Moor is also a composer of soundtracks for films, working with english artist/filmmaker Marion Coutts, with Iranian filmmaker Bani Khoshnoudi and US experimental filmmaker Jem Cohen. He has an active interest for participating in dance performances, live, or as a composer. Moor and Campora are sharing the stage on several projects. His working relationship with Vigier includes the live performance 'The Journalist', and their music label, Unsounds.
Andy Moor on Wikipedia / www.unsounds.com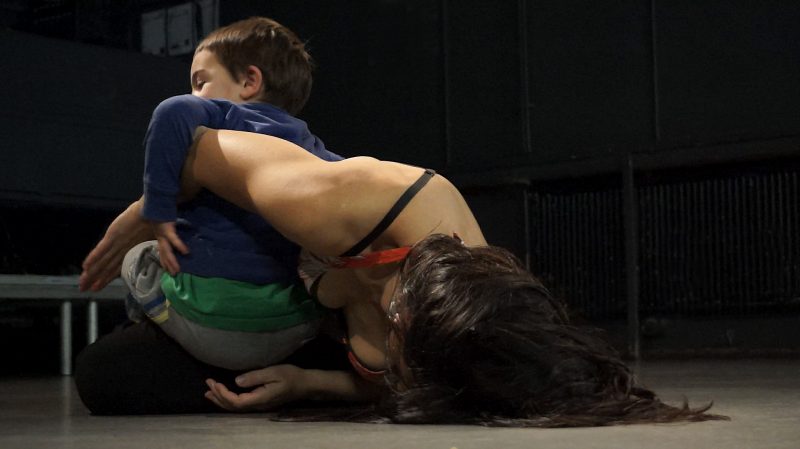 SAFE PIECE public presentations
Safe Piece (installation)
Movement Exposed Gallery Space, Utrecht, NL, sept/oct 2020,
Safe Piece (film)
Official Selection InShadow Festival, Lisbon December 20 Nov/13 Dec 2020
Premiére, Music dance Performance Festival, OT301, Amsterdam, june 2019
(Work in progress and performance) Teatro Akropolis Dance Festival Genova, IT, November 2018
(Work in progress) Performing arts Festival, Theater Frascati, Amsterdam, NL, 2018
(Work in progress ) Why Not Festival, Amsterdam, NL, 2017